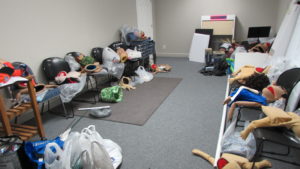 by Carol
What happens when volunteers are too busy?
This is Therapy Journal 101. When I'm too busy:
I don't get blog posts written/proofread/posted.
I snap at people.
I have no patience.
I make mountains into mole hills. No — the other way around.
I make mistakes.
I can't think creatively.
I give up before the job is finished.
I drop things (like paint brushes, soft drinks, trays of cupcakes — icing side down).
I snap at people.
I get sick.
I fail to ask others for their help, their understanding, or their prayers.
I say things that shouldn't be said out loud (like letting other people know how frustrated I am with someone/something).
I snap at people.
I think about quitting.
I forget to give God the credit He deserves.
I think about kicking the cat (which I wouldn't do — and, besides, God's word says a lot about people who mistreat animals).
I don't smile or laugh.
I snap at people — and don't tell me that I already said that!
People have limits.  When they are stressed, tired, and pressured, even the best of us run out of energy and let our filters slip.
There may not be anything you can do when one of your volunteers has had a storage unit flooded, had cats start the volunteer's work day at 4:45 a.m., is about to be laid off, and has a VBS to-do list that is a mile long of things past their deadlines.  (Welcome to my world!)
What do I appreciate when I'm too busy?
Help with cleaning up or getting things finished.
A creative perspective.
A minimum of questions and advice.
A short memory for some of the things I say.
A long memory for expressing appreciation for good things I do.
Sometimes — but not always — a hug.
Thanks for listening.