by Carol
What size is your church?  Are you sure?
For many years, I was in a church that I called "a small, neighborhood church."  We lived in the shadow of a super church (bigger than a mega church) that was the size of a zip code.  As we considered relocating, though, we realized that we had members from 10 different cities!  And, according to experts in church size, we were at least a medium-sized church.  By some standards, we were large!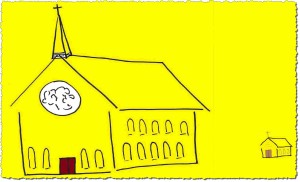 You can imagine the difference that made in how the members of the congregation viewed outreach, staffing, budget, and a host of other issues.
The concept of size has an impact on volunteers, too.  Have you seen one of these scenarios?
Volunteers visit a larger church.  It doesn't have to be a "mega" church — everything else looks mega to these volunteers.  They underestimate themselves for being "only" a small church.  They "can't" do the things they see in this big church.  They are overwhelmed at the supply rooms (compared to a supply cabinet) and enormous murals.  They feel like grasshoppers in a land of giants.
Volunteers attend a church that has television outreach and a well-known pastor.  Their ministry year always begins with in-house training and retreats led by highly educated staff members.  Although these volunteers are invited to training sessions outside of the church and have access to all sorts of ministry workshops, the volunteers in this church assume that the resources are for smaller churches that don't have the expertise of their church staff.  They are missing out on the benefits of learning from (and fellowshipping with) folks with a different perspective.
In both cases, it would help for the volunteers to adjust their mental image.  Too often, we feel like small is inferior and big is self-sufficient.
For the next few posts, we are going to explore the categories of church size and what we can learn about the strengths / weaknesses of each — and what that means for volunteers.